What is Transmission Fluid?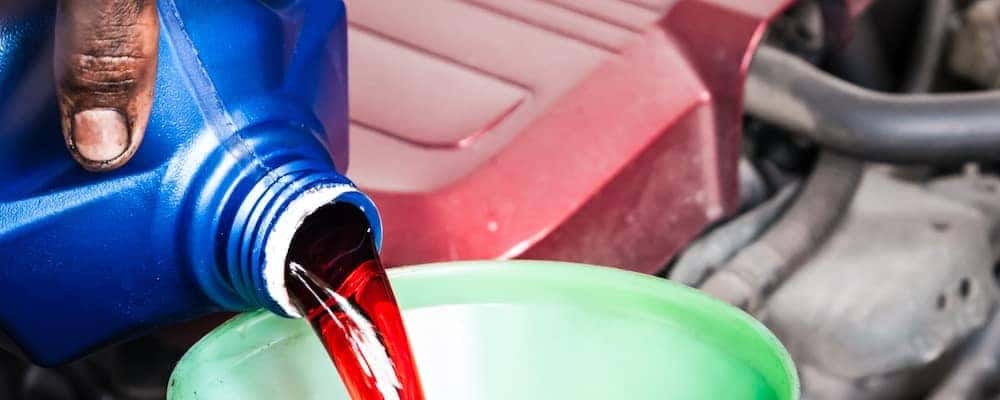 Transmissions require transmission fluid to run properly. This includes lubricating the steering system and gearshift system and keeping everything from overheating. Learn more your transmission fluid below with our FAQ guide, and schedule service at Chevrolet Center Inc when it's time to change your fluid in Lakeland or Haines City.
Get Your Transmission Fluid FAQ's Answered
What is the Difference between Motor Oil and Transmission Fluid?
Motor oil is used to deal with the combustion of the engine and to keep the engine cool, and it needs to be changed at least once a year if not more often. Transmission fluid is needed for the transmission system cool, but it is a closed system that needs to be changed far less frequently than motor oil.
Are There Different Types of Transmission Fluid?
There are automatic transmission fluids and manual transmission fluids, and some modern manual transmission systems may even require automatic transmission fluid (ATF), so be sure to check your owners manual or call your local service center to make sure you are getting the right kind.
There are also synthetic and traditional transmission fluids. Traditional transmission fluid is made with crude oil, and synthetic transmission fluid is made from specific chemical reactions that make it less likely to oxidize or break down in extreme heat.
What Does Transmission Fluid Look Like?
Transmission fluid is viscous and slick like motor oil, but it is dyed a dark translucent red color to help identify it. If it starts to turn darker or becomes black, it's time to change your transmission fluid.
What Does Transmission Fluid Smell Like?
Transmission fluid has an odor similar to petroleum. If you notice it smells burnt, that means you should change your transmission oil soon.
How Do I Check My Transmission Fluid?
It's smart to check your transmission fluid levels and condition about once a month to catch any issues before they become serious:
Turn your vehicle on and make sure the engine is warmed up before checking the fluid. Under the hood, find the transmission fluid dipstick, which is usually to the right of the motor oil dipstick on front-wheel drive models.
Use the dipstick to check the fluid level and make sure it reaches the "full" mark. Use a funnel to add more fluid if needed.
Check the appearance and smell of the fluid to make sure it doesn't need replacing.
How Often Should I Change My Transmission Fluid?
If there are no issues you notice when you check your fluid, you should replace your transmission fluid between every 50,000 and 100,000 miles, depending on the age of your cars, type of transmission, and driving conditions. Be sure to check your owner's manual for more specific details.
Rely on Chevrolet Center Inc for Your Service Needs
When you are ready for a transmission fluid change, your car detailed, or any other type of vehicle maintenance in the Davenport area, contact our service center at Chevrolet Center and talk to our expert technicians.
Learn More at Chevrolet Center Inc
The 2023 Chevy Traverse is usually known for its sizeable cabin and exceptional performances to enjoy in Lakeland roads. The 2023 Chevy Traverse MPG is equally as impressive. Learn more about the 2023 Chevy Traverse gas mileage, and then contact us at Chevrolet Center Inc to arrange a test drive in the Winter Haven area. Chevrolet…

If you are wondering how the Chevy Silverado would be as an EV, we have some exciting news for you. The Chevy Silverado EV release date is coming in the spring of 2023, taking the excellent reputation of the Silverado while improving fuel efficiency. While the Silverado EV price is not out yet, let's…

Record gas prices probably have you thinking about fuel efficiency like everyone else in Lakeland. Is the 2023 Chevy Equinox fuel-efficient? How many miles per gallon does the 2023 Chevy Equinox get? Well, the EPA-estimated 2023 Chevy Equinox mpg reaches as high as 31 miles per gallon on the highway. However, the 2023 Chevy…